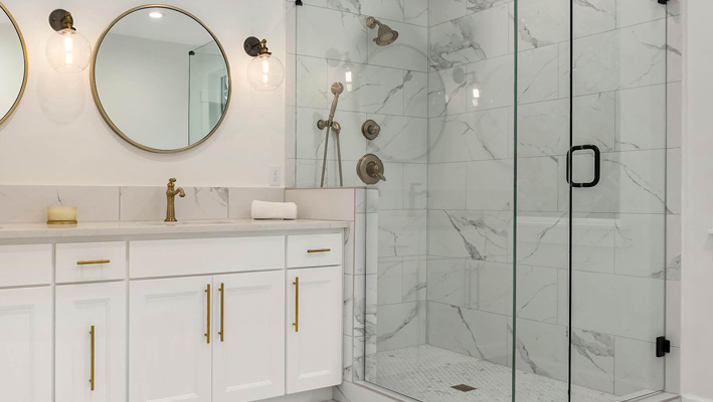 Key Benefits of Frameless Shower Doors
The Bathroom is a comfortable sanctuary that provides cleansing and relaxation to the body. It is also a place of privacy where one can take a relaxing bath after a hard day's work. But for a bathroom to be a truly functional and comfortable space, it must have basic accessories like a shower, sink and tub. In addition to bathroom fixtures, frameless shower doors can greatly enhance your overall architectural beauty in many ways. 
When you are remodelling your Bathroom, there are several options for providing a cover for your shower. There are tried, true shower curtains, economical sliding doors, and then you have framed glass doors or frameless glass shower doors.
Budget can play a big factor in which option makes the most sense for your project, and it will all work to keep the water in the shower in its place. But in recent years, most homeowners have opted to invest in frameless glass shower doors to remodel their bathrooms, and there are definite benefits.
What is a frameless shower door? 
The frameless shower door is a sturdy tempered glass panel. Unlike framed glass shower doors, they do not require metal supports to function. It is safe to say that frameless doors are the more stylish choice in the minds of most consumers today.
Homeowners choose frameless shower doors because:
They are available in many design options: you can choose from various design styles for your frameless glass shower doors. Frameless shower doors come in several styles, sizes, and configurations. Frameless doors don't use metal frames, but you can add metal hinges or handles. You can also have a semi-frameless shower door with a metal cover on top or around the sides.
They offer a wide range of movement: The hinge for your frameless pivot shower door swings the door in and out. With this feature, you can open the frameless pivot shower door from any direction. It is a deviation from the limitation of opening a framed bathroom door.
Frameless Doors Easier to Maintain
Less chance of mould forming. Since the frameless glass door has no seal, there is no place for water and soap to gather and build up.
Let the light flow. The Bathroom is one area where light flow is important in your daily routine. You'll have difficulty finding shampoo, soap, and razors when you shower in a dark bathroom. With frameless glass shower doors, natural and artificial light can flow into the room to help increase visibility.
Makes the room feel more spacious. Shower curtains and sliding shower doors can cut your line of sight, while glass will allow your eyes to see into the shower space, creating the impression that the room is bigger. If you have a smaller bathroom, glass doors are the way to go.
Easier to maintain: The lack of a frame makes cleaning a frameless bathroom door much easier than a framed glass door. Cracks in the structure may collect soap scum and moisture over time. A frameless shower door will carry less of this dirty debris. Along with cleaning, frameless glass shower door parts are easier to replace. With framed doors, you need to order parts from the original manufacturer. You can order replacement parts for frameless bathroom doors from various manufacturers. There are also fewer components to worry about in a frameless glass shower door.
Emphasize the design features of the rest of your Bathroom: One of the biggest benefits of frameless shower doors is how they affect your Bathroom. These doors make the Bathroom feel more spacious and airy. They also put more emphasis on other design styles in your Bathroom. For example, you can draw attention to your stone or marble tiles that frame or hide the shower curtain with frameless shower doors.