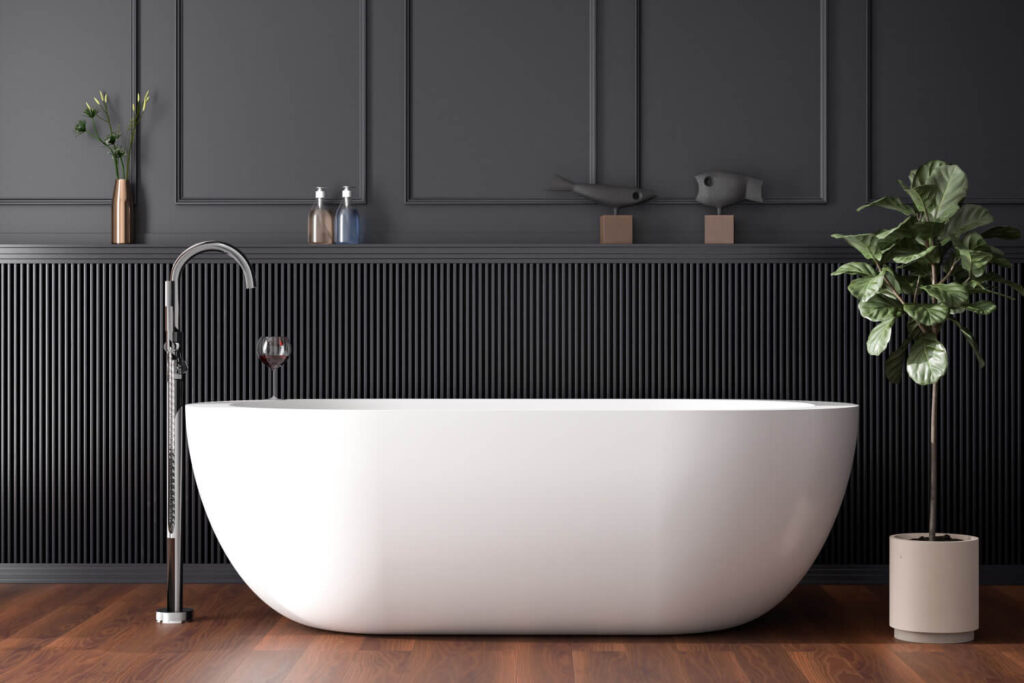 Top Reasons To Choose Freestanding Bathtubs For Your Bathroom
Despite retaining the aesthetic charm, freestanding bathtubs offer several practical advantages allowing enough flexibility in the layout of your bathroom as well as offering easy options for installations. They entertain a stand-alone presence which means that you can position them to secure the advantage of natural light or the best view and create a spa-like ambiance. 
Freestanding bathtubs have gained a considerable amount of popularity as it entertains a perfect harmony of style, relaxation, and luxury. Still not convinced? Here are the top reasons to select a freestanding bathtub over other options.
Benefits Of Choosing Freestanding Bathtubs:
A freestanding bathtub can elevate your bathroom space in a variety of ways, making it a stylish and compelling addition. Here are the top 10 reasons why opting for a freestanding bathtub can be an excellent choice:
Adds A Statement Of Elegance:
Freestanding bathtubs are attractive and help create a focal point in your bathroom. This instantly adds a touch of luxury and elegance, impressing the visitors to your house. It also enhances the quality of your daily bathing ritual, offering you an elevated experience.
Placement Flexibility:
As freestanding bathtubs come with stand-alone fixtures, they offer the utmost placement flexibility. You can position them in a particular way so that they complement the overall ambiance of your bathroom. Moreover, freestanding bathtubs may serve as a perfect choice for various styles, from traditional to modern as well as a minimalist style. 
Versatility In Designs:
You get a plethora of designs, materials, shapes, and sizes for freestanding bathtubs. Their versatile design allows you to position them to take advantage of the best views for the creation of a stunning visual effect for your bathroom.
Ease Of Installation:
Compared to inbuilt bathtubs that may require a complex installation process, freestanding bathtubs can be easily installed conveniently. They also allow quicker and more convenient bathroom updates and renovations.
Spacious Soaking Experience:
If you intend to opt for a bathtub entertaining more spacious and deeper interior, then a freestanding bathtub will be the best choice. These bathtubs offer an immersive and comfortable soaking experience that allows you to lavishly relax and unwind all your work stress at the end of the day. 
Minimal Maintenance:
Freestanding bathtubs often come with a much smoother surface. Therefore there is a limited presence of nooks and crannies. This makes the cleaning and maintenance process easier than inbuilt tubs.
Enhanced Resale Value:
Bathtubs, in general, add value to your home, and if it is a freestanding bathtub, it highlights a sense of sophistication that enhances the resale value of your property. A bathroom with a freestanding bathtub may impress potential buyers looking for a luxurious bathroom design.
Ease Of Replacement:
Freestanding bathrooms are particularly easy to replace as compared to in-built bathtubs. In case you intend to opt for a renovation, you do not require to invest a large sum of money. Therefore such bathtubs allow you to update the look of your bathroom without much hassle. 
Adds A Personal Touch:
If you are searching for a timeless and classic bathtub design that will withstand the test of time, freestanding bathtubs offer you the perfect solution. They are available in a wide array of finishes, materials, and designs to suit your preferences and requirements. 
Conclusion:
Considering all these advantages opting for a freestanding bathtub will undoubtedly serve as the ideal choice for your bathroom, whose functionality is married to its style and elegance. Transform your ordinary space into an extraordinary abode of relaxation with freestanding bathtubs.