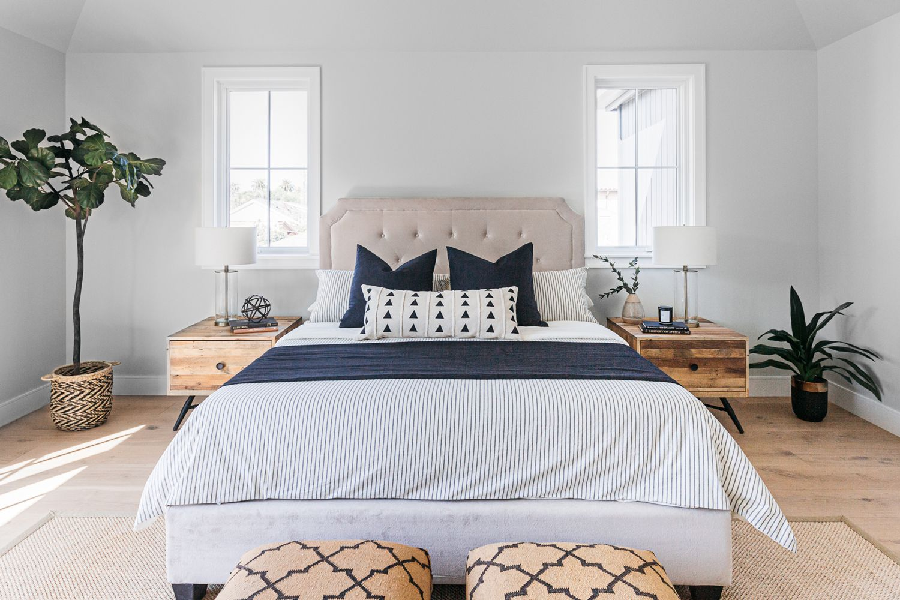 Top Tips on How to make your bedroom look and feel bigger
Not every house has a large master bedroom.
A bedroom can feel cramped without much free floor space. This can lead to relaxation issues as a cramped, overcrowded room is not the sanctuary you need after a long busy day. Did you know that the average UK Master bedroom size has dropped from 15.34m2 in the 1930s to only 13.64 in the 2000s?
There are plenty of ways though to make a bedroom look and feel bigger than it is. Even some of the smallest changes can help achievethis..
We have a list of top tips to help transform your bedroom into a spacious refuge from the trials of the day.
Clutter-Free
A tidy bedroom always seems much bigger. A space without your clothes and belongings scattered everywhere is essential for a room to feel more spacious. This can be achieved by space planning and storage solutions that are multifunctional, such as divan beds.
Less is More
The more furniture you have in your room, the less free floor space and the small the room will feel. Be very selective about what pieces of furniture you really need in the room. A divan bed really is a great storage choice and other smart solutions such as shoe racks within the wardrobe help alleviate the clutter.
Use light and pastel colours
Light can help free a room from the gloom of clutter. A room decorated in light colours will help the light bounce around the room and give an impression of space. Walls painted neutrally in white and cream allow you to use personalised accessories to keep the room a reflection of your personality. And while we are talking about reflections, mirrors are great for creating the illusion of space. A headboard can bring a splash of colour to the room if so desired.
Use every bit of space wisely
Every bedroom, no matter what size or shape, normally has some wasted space. Every bit of space needs to be utilised to make your bedroom look bigger. A metal or wooden bed frame with space underneath becomes a storage area. A divan bed with storage drawers or a flip-up base will offer huge storage solutions. These are great for storing things like winter clothes during the summer and vice versa.
Avoid bulky furniture
No matter what size bedroom you have, some pieces of furniture are essential, be it a wardrobe or chest of drawers. Try to swap out big, bulky furniture items for more streamlined, minimalist versions.
How to make your bedroom look and feel bigger
The tips above will be useful if your aim is to make your bedroom look and feel bigger. Consider a bed with built in storage features as an essential purchase to reach the goal of your quest.
At Cheap Bed Sale, we have a huge range of UK manufactured beds ready for delivery from our UK warehouse. Feel free to contact us for more information or advice regarding your bed and mattress requirements.