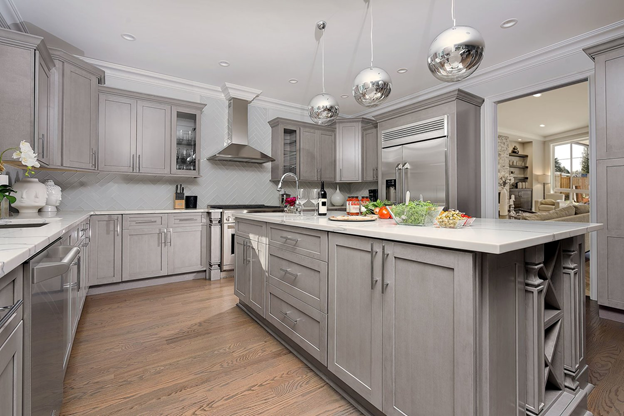 How To Choose Cabinets For A Timeless Kitchen
A trendy kitchen design might sound appealing, but you should not be committing to it. Stick with a classic kitchen design.
People often jump on a trend, but do they really want their kitchen to look like the one in their neighbor's house? It's unlikely, and you shouldn't. Your kitchen should reflect your personal style.
A Timeless Kitchen
Trends don't necessarily have to be your only choice. As long as they work for you and are practical, you can still follow them. Mix and match what's hot with your ideas.
Neutral Tones
The accents and accessories should be kept in the same bold color palette as the bold colors. Instead of buying a hot pink fridge and stove, get started with towels. If you don't want to be distracted, choose calming colors that can be easily changed.
Natural wood and natural materials for counters and cabinets will withstand the years of flashy trends. You can change the color of your cabinets, flooring, or walls at any time, but you should keep the basic colors the same.
Small accessories like dishes and area rugs can make your personality shine. They are also easy to replace.
Quality Materials
The rest of the work will be easier if you have a solid foundation. You will be able to rely on high-quality wood, great countertops, tiles, and other materials for many years. Quality will be more expensive, but it will last you longer and save you money.
Good quality wood for cabinets and floors that are easy to maintain will last longer than any coffee table trend.
Cabinets
Quality cabinets will last for years and still look good. Avoid loud, flashy colors. Keep it simple and functional for your kitchen for many years.
To maximize your space and make your kitchen more efficient, custom cabinets are a good choice. Custom-built cabinets are able to fit in any corner, nook or cranny. A solid, plain cabinet door will add elegance and style to your kitchen. They are functional and beautiful.
Shaker cabinets will always be in demand. A solid, plain cabinet door can add elegance and style to your kitchen. They are functional and beautiful.
Everything will work out if you get what you want. Slide-out or secret drawers can be used to maximize the space while still adding a great sense of style and function.
Design
Your kitchen should be tailored to your needs. It doesn't really matter how beautiful your kitchen is if it is difficult to use. Consider what you will need in years to come when choosing a design.
Are you planning to have children in the near future? Do you think about selling the property or giving it to your adult children? Are you experiencing mobility issues? You can build the kitchen.
People feel more at ease when they choose clean lines over busy designs. People don't like to be complicated and don't know where they should look.
Custom Cabinets
Call The French Refinery to get cabinets for your timeless kitchen. Your kitchen can be the focal point of your home. Our kitchens are where we spend most of our time. We should be happy with how it looks and functions.
Sticking to the essentials of a kitchen will keep it current for many years. Avoid costly renovations. Ask us about our cabinets to see how we can make yours fit your space better than ever.
This article was written by Jordan Legault, Jordan is the owner of The French Refinery. Founded in 2015, The French Refinery quickly built a name and reputation for high-end cabinetry with quality craftsmanship and attention to fine detail. We strive every day to provide the utmost in customer service because our customers deserve the best we can provide. We have built a hand-picked team of talented craftsmen with over 100 years of combined experience. Building Kitchen Cabinets In Tampa FL is our craft, we love what we do, and we make it show through in the work we provide on a daily basis.